What is the Connecting STEM & Cultural Heritage Dialogues Series?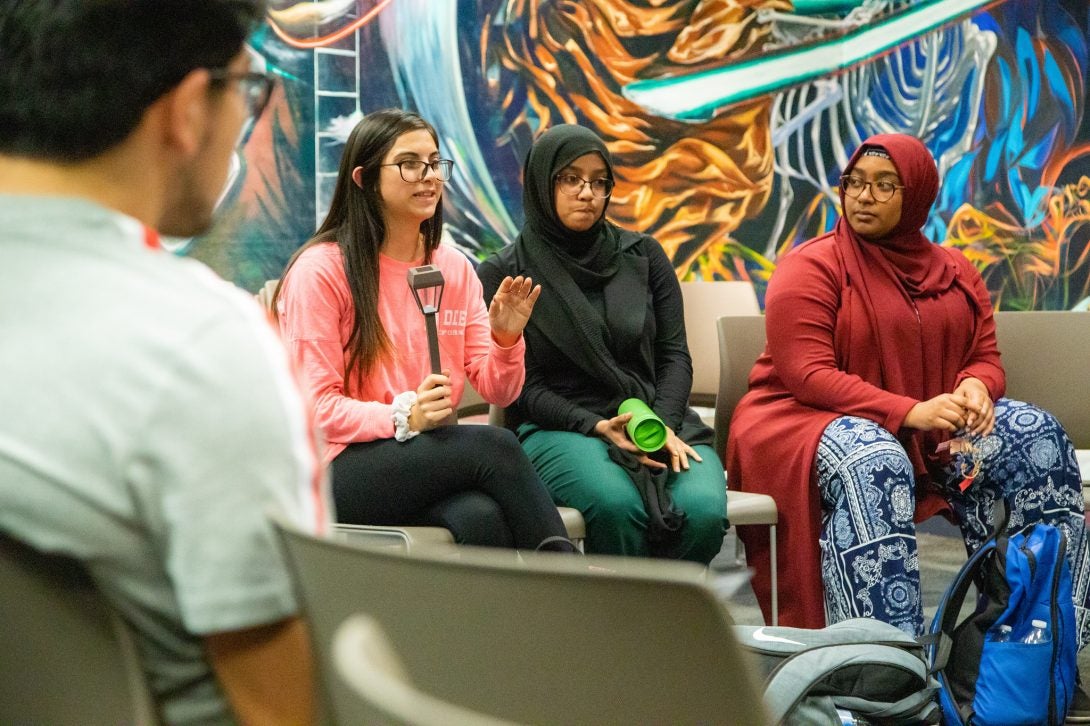 In 2017, the L@S GANAS program and the UIC Latino Cultural Center (LCC) established a partnership to create a series of culturally relevant dialogues for the L@S GANAS research fellows. This series of six facilitator-led dialogues called "Connecting STEM & Cultural Heritage" engages Latinx STEM students in critical conversations about race, politics, identity, cultural heritage, history, and environmental and climate justice, among other themes.
This dialogue series explores topics including intergenerational differences, the history of science in Latin America and the Caribbean, and indigenous communities and science. Through the exploration of these topics, the Connecting STEM & Cultural Heritage Dialogue Series aids the goal to holistically support Latinx students in the STEM fields and accomplish the following objectives/outcomes:
To help students harness their cultural identity as an asset to solve common challenges 

and shape a positive self-defined identity as Latinxs and scientists;
To support STEM students to succeed in their studies, pursue successful professional 

careers, and bring knowledge and skills back to help their community;

To enhance academic, professional, and personal skills such as critical thinking, public 

speaking, listening, self-reflection, negotiating differences, and networking; and

To build community among students and foster a sense of belonging.
The Rafael Cintrón Ortiz Latino Cultural Center
Established in 1976, the Rafael Cintrón Ortiz Latino Cultural Center (LCC) was the first cultural center at the University of Illinois at Chicago (UIC). The center emerged out of a 1970's movement for the recognition and support of Latinx students on campus, which also led to the development of the Latin American and Latino Studies Program (LALS) in 1974 and the Latin American Recruitment and Educational Services Program (LARES) in 1975.
The LCC's mission is to engage the UIC campus and local communities to deepen understandings of the diverse cultural heritages and identities of Latinxs, issues affecting their lives, and creative solutions they are using to improve community life. This is accomplished through engaged learning opportunities that feature cultural and artistic expression, intercultural and civic dialogues, scholarly presentations, and first-voice stories.
Today, as one of UIC's seven Centers for Cultural Understanding and Social Change (CCUSC), they work collaboratively to provide programming that addresses issues that affect all students and community members in diverse ways. 
Arts-Based Civic Dialogues
The LCC's Arts-Based Civic Dialogues (ABC Dialogues) and Tours Initiative began in 2013 and continues today, utilizing art and storytelling to collectively explore creative solutions for common challenges. The LCC's dialogues and tours explore their indoor mural, El Despertar de Las Américas (The Awakening of the Americas), created in 1996 by Chicago muralist Hector Duarte and UIC students. The ABC dialogues have resonated with various classes and community groups, incorporating themes of im/migration and environmental/climate justice.
Connecting STEM & Cultural Heritage Dialogue Guide
As a result of the partnership with the LCC and the creation of the two-year series of dialogues designed for the L@S GANAS Research Fellows a dialogue guide was created by L@S GANAS, LCC staff, and dialogue facilitators. The Connecting STEM & Cultural Heritage Dialogue Guide serves as a great tool for training staff to design and facilitate dialogues for Latinx students and community members alike. This tool is also available to anyone who desires to incorporate cultural dialogues within their institution or organization. So, if you or your institution are interested in engaging Latinx youth in critical conversations about cultural heritage, identity, history, environmental justice, and more, check the link below to get access to our guide.
Other Ways in Which You Can Explore Your Different Identities
Through our Connecting STEM & Cultural Heritage Dialogues, we encourage our students to explore the connections between science, Latin American heritages, and Latinx identity. UIC is uniquely situated to both nurture students' interest in Latin American heritages and Latinx identity and to cultivate the development of the identity of students as a scientist and researcher. In our program, we further explore how diverse identities and cultural heritage can become assets to do research and to pursue STEM careers.
Check the links below to learn how we can further support your scientific and cultural identities.
Science and Cultural Heritage
Dialogue Coordinator & Program Assistant