Scholarships
Scholarships are a great way to fund your education! Be sure to only apply to those for which you are eligible; work smarter not harder.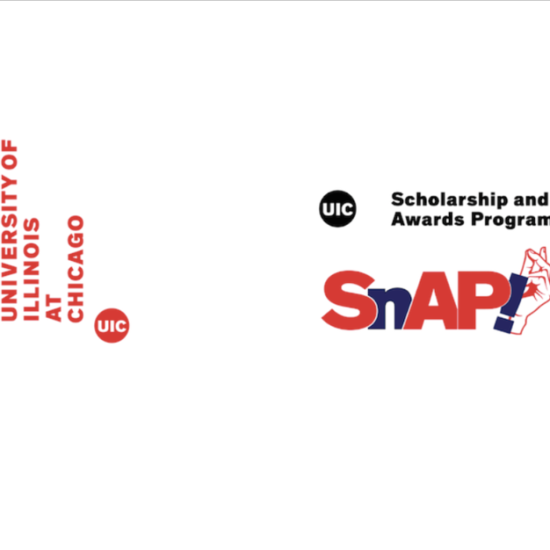 UIC's SnAP office is the main source of internal scholarships for students. Through this office, students have access to over 500 UIC scholarships. If you have any questions about using the online system, just email snaphelp@uic.edu.
Apply to UIC scholarships here!
Below is a list of local, state, and national scholarships. Look through them and see which ones you're eligible for!

| | | | |
| --- | --- | --- | --- |
| Scholarship | Description | Deadline | Website |
| The Anhelo Project Dream Scholarship | The Anhelo Project Dream Scholarship will be awarded to deserving undergraduate or graduate students who demonstrate leadership, academic competitiveness, community involvement, and financial need. | January 2018 | http://www.theanheloproject.org/dream/ |
| IL Legislative Latino Caucus Foundation | Scholarships are granted to undergraduate college students whose home residence is in Illinois. | September 28, 2018 | https://www.illcf.net/illcf-scholarships |
| Platt Family Scholarship | Provides 3 prizes, ranging from $1,500 to $500. | July 31, 2018 | http://www.thelincolnforum.org/scholarship-essay-contest |
| Que Llueva Cafe Scholarship | The "Que Llueva Café" Scholarship aims to support the dreams, hopes and aspirations of college bound undocumented students so that they can earn their college education and allow for all of their hard work and sacrifice to persevere. | TBD | http://www.ca-core.org/que_llueva_cafe_scholarship_program |
| Elie Wiesel Prize in Ethics Essay Contest | Offers five prizes ranging from $5,000 to $500. Registered undergraduate full-time Juniors or Seniors at accredited four-year colleges or universities in the United States during the Fall 2018 Semester are eligible to apply. | 2019 | http://eliewieselfoundation.org/prize-ethics/contest/ |
| Hispanic Scholarship Fund | Awards are based on merit; amounts range from $500 to $5,000, based on relative need, among the Scholars selected. | 2019 | https://www.hsf.net/scholarship |
| Foster Care to Success Scholarship | FC2S partners with organizations, foundations, and individuals to deliver scholarships to foster youth across the country. With this funding and our support, hundreds of young people reach their educational goals every year. | Jan 1 - March 31, annually | http://www.fc2success.org/our-programs/information-for-students/ |
| Davis-Putter Scholarship | The Davis-Putter Scholarship Fund aids people active in movements for social and economic justice. The maximum grant available from the Davis-Putter Scholarship Fund is $10,000 per year (from July 1 through June 30). | 2019 | http://www.davisputter.org/apply-for-scholarships/ |
| Great Minds in STEM/HENAAC Scholars Program | The goal of the Program is to increase the persistence to graduation among underrepresented and underserved STEM college students. | 2019 | http://www.greatmindsinstem.org/college/henaac-scholarship-program |
| Society of Hispanic Professional Engineers Foundation Scholarship | SHPE provides a wide variety of scholarships from partners within industry and the non-profit sector. Be sure to check out the website for all the opportunities! | 2019 | http://scholarships.shpe.org/students/ |
| TravelNurseSource "Future U.S. Nurse Scholarship" | TravelNurseSource is awarding a $2,000.00 scholarship to a first-time nursing student who creates a compelling selfie video for our online scholarship contest. | October 5, 2018 | https://www.travelnursesource.com/resources/scholarship/ |
| Ivey Engineering Bi-Annual Scholarship | The Ivey Engineering $1,000 bi-annual scholarship (awarded twice per year) provides college and university students an opportunity to earn money to further their education. | The deadline for Ivey Engineering scholarship entries is bi-annually on May 1 and November 1. | https://www.iveyengineering.com/about-us/scholarship/ |
| Association for Women in Mathematics | To increase awareness of women's ongoing contributions to the mathematical sciences, the Association for Women in Mathematics (AWM) and Math for America are co-sponsoring an essay contest for biographies of contemporary women mathematicians and statisticians in academic, industrial, and government careers. | January 10, 2019 | https://sites.google.com/site/awmmath/programs/essay-contest |
| Providian Medical Scholarship | To apply for the scholarship, you must submit an original essay of up to 1,500 words that describes how medical equipment technology has changed the face of a college course and curriculum. Entries can also include a look toward the future and how this area of study will continue to evolve and advance. | Jan 15 for Winter; June 21 for Summer | https://www.providianmedical.com/providian-medical-scholarship/ |
| Artic Physical Therapy Scholarship | Scholarship value of $500 | August 31, 2018 | https://www.physicaltherapyfairbanks.com/physical_therapy_fairbanks.php |