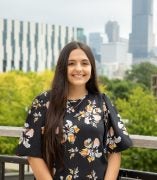 Sophia Silva, MSW
Transition Coach
About
Sophia Silva has grown up in the northwest suburbs of Chicago. Sophia earned her Bachelors Degree in Social Work from University of Missouri- Columbia in 2016 and enthusiastically returned back home to Chicago to pursue her Masters degree. Sophia earned her Masters in Social Work in 2017 where she specialized in Mental Health and Migration Studies.
Sophia has held two other positions in higher education; one at Dominican University serving as a therapist for students seeking support in the wellness center, and at McHenry County College serving as a college success coach for all students.
Sophia is guided through her personal and professional life by the desire to hear peoples stories and be an agent of change! When she is not on campus assisting students and advocating for a more equitable education system she is likely crossing off the best vegetarian food spots around the city.