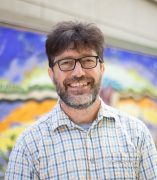 Michael Swaine
Business Manager
Contact
Building & Room:
Student Services Building
Address:
1200 W. Harrison, 2190 SSB, Chicago IL 60607-7164
Office Phone:
Email:
About
Michael previously worked with CeaseFire within the School of Public Health at UIC as a Technical Assistance and Training Coordinator. Prior to that, he served as the Director of the RÍo Rápido Service Learning Program for Troubled Teens in Costa Rica and worked for the Peace Corps in Bolivia Venezuela and Paraguay. Michael has a Bachelor's Degree in Theater Arts and Anthropology from Illinois Wesleyan University, He also earned his Master's in Peace, Conflict Resolution and International Development Studies from Universitat Jaume I in Spain and a MBA from UIC. In his free time he enjoys playing with his kids, brewing beer and volunteering in a local food pantry. He currently lives in Oak Park with his wife Stacey and two children Gabriel and Jocelyn.