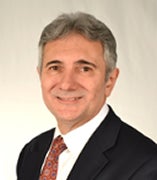 Jorge Girotti, Ph.D.
Co-Principal Investigator
About
Dr. Jorge A. Girotti is an Assistant Professor in the Department of Medical Education (DME). In addition to his DME faculty duties, he is Associate Dean and Director, Special Curricular Programs –overseeing Joint Degree programs (MD-MPH, MD-MBA and MD-MS-CTS), the Guaranteed Professional Program Admissions (GPPA) in Medicine, and the Urban Medicine program. Dr. Girotti is also Director of Admissions, College of Medicine. Part of his responsibility in DME includes directing the Hispanic Center of Excellence, which aims to promote science and medical careers for Hispanic youth, expose undergraduate and medical students to biomedical and clinical research, and increase the representation of Latino faculty in our medical school.