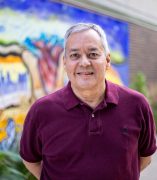 Bernard D. Santarsiero, Ph.D.
Co-Principal Investigator
About
Dr. Bernard Santarsiero's scientific expertise is at the interface of structural chemistry, structural biology, computational analysis, and x-ray diffraction. His long-term research objective is to develop new tools and novel approaches that foster drug discovery, and includes computation, automation, synchrotron resources, spectroscopy, calorimetry, and bioinformatics. Santarsiero led two engineering projects at E. O. Lawrence Berkeley National Laboratory to develop new instrumentation for protein crystallography, designed and built the first automated station at the Advanced Light Source, and co-founded a drug discovery company Syrrx (sold to Takeda in 2008) based on this technology; two new drugs are now available to treat diabetes (Alogliptin, Pioglitazone) from the Syrrx pipeline. He has led project cores on two NIH/Program Project Grants at UIC focused on developing antibiotics effective against anthrax and tularemia. In the past decade, Santarsiero has also been involved in multiple efforts to foster greater diversity and inclusion in research and teaching, and is committed to improving the climate and educational resources at UIC to promote greater recruitment and retention of undergraduate, graduate, and professional students from underrepresented communities. Santarsiero was the first person in his family to complete college and graduate school.