At the Top of the World with Samira
post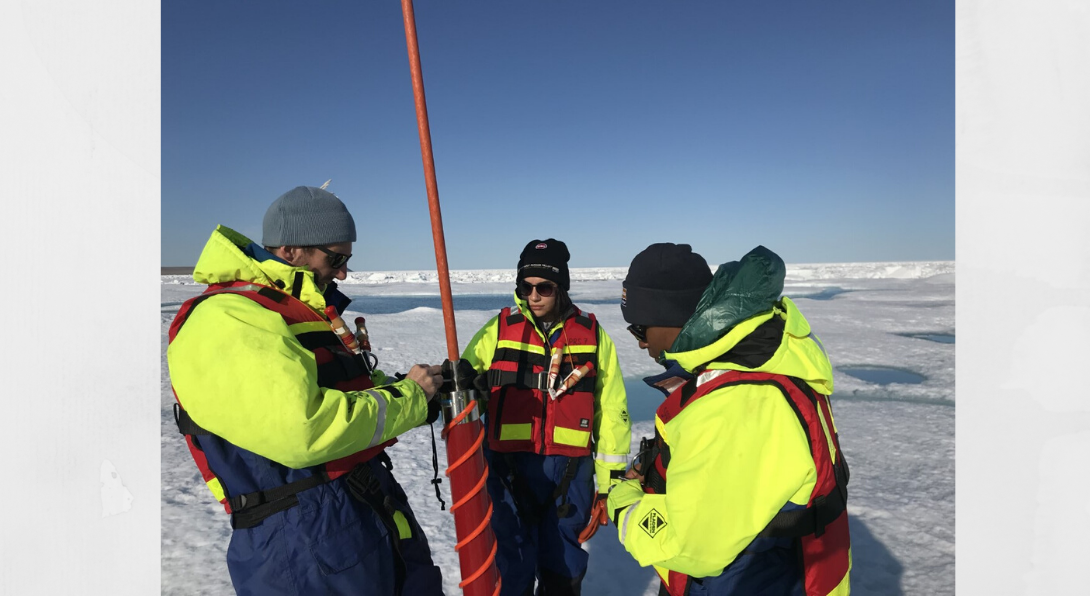 Oh the places you'll go…
Dr.Seuss's book is an iconic representation of the endless possibilities that the future holds. For Samira a fourth year environmental science and chemistry student and a member of the L@s GANAS  research fellowship she really had no idea of the places she'd go at the start of her time at UIC.
During her third year at UIC research took her to the edge of the world, a place with nearly no life, a place filled with stories of those who did not survive the treacherous journey. Research took Samira to the Arctic, through the Northwest Passage to Beechey Island.
Samira was in her third year at UIC and at the point where she was doing hands on work in Dr. Miquel Gonzalez-Meler's Isotope lab focusing on the interactions between environment and ecosystems. Through working in a lab Samira learned about different opportunities that research offered. One being a chance to travel to the Arctic on a research expedition. Samira applied and interviewed for a competitive spot on the Swedish Oden icebreaker. She described the day that she was told she was selected as the "happiest day of her life". This began months of preparation and planning. This included Samira participating in various trainings and webinars. Then July 15th came and she started her two day long travel journey to the arctic. First, Samira flew from Chicago to New York then once at New York she met the other students and some of the crew members who would be embarking on this journey with her from all across the country. From New York they all left on a C-17 Army plane to Greenland. Once they were in Greenland they had to take a small boat to the ship.
The 73 person crew boarded the ice breaker ship and the real fun began. The team was composed of people with varying roles and responsibilities. Some were researchers like Samira, others were crew for the ship and some were armed polar bear watch. Samira mentioned that sleeping on the ship was difficult at first for a few reasons one being the excitement and another being the 24 hours of sunlight.
While on the ship one of Samira's favorite tasks was ice quarrying. Ice quarrying on this expedition consisted of taking a helicopter out to a deep sheet of ice on the ocean and drilling into it, to collect the ice and bring it back up to the surface. While on the ice they were measuring the length and temperature. Upon arriving back to the ship the team would then take the ice to one of their make-shift labs on the ship to look for microplankton, microplastics, and methane trapped in the ice. Samira noted that they did discover microplastics in the ice that they pulled.
Traveling to Beechey Island is not a simple task, the Northwest Passage is not for the lighthearted. The island can be very hard to reach and the land is scattered with grave sites and tombstones. Many boats struggle to get through the thick ice, hence why she and her team traveled on a Swedish Oden icebreaker. If people have made it to the island they encountered new challenges including the freezing temperatures, frostbite, sickness and starvation. Samira described the policy of getting on and off she ship when at Beechey Island as very strict. Everyone was accounted for and had a walkie talkie. You were only able to leave the boat in pairs for an allotted time after the polar bear watch went out and cleared the area as safe.
As one could imagine this is truly a once in a lifetime opportunity. Many people will never travel to the Arctic or to Beechey Island, a place so still that nearly no life exists on it. Millions of people will only know these places through pictures or looking on a map. Samira was able to assist in researching one of the world's most pressing issues. What is happening to the ice caps? Well, Samira can tell you first-hand that they are melting and there is microplastics in them.
This trip changed many things for Samira as it opened her mind to so many new possibilities. Upon returning she officially changed her major to environmental sciences and has a new interest in studying cold areas. While changing her major to environmental sciences seems like  a logistical task to Samira it is much more, it motivated her to keep going and to earn a degree in something she is extremely proud to be apart of. Additionally, Samira plans to pursue a PhD in the future. After the trip Samira also views research as a career option and described this expedition as something that "cannot be her last one".
When asked what she would tell another STEM student who might be hesitant about what research is and the opportunities it presents, she said it is like food…you just have to try it!
The feelings, excitement and networking that Samira was able to partake in during her expedition is something that she will carry with her forever and has changed the course of her future. If Samira had never joined the L@S GANAS research fellowship that allowed her to be exposed to such opportunities she may have never been able to take part in the expedition and ignite her passion for environmental research.
Learn more about the L@s GANAS Research Fellowship.
Interview by Sophia Silva
Modified on January 15, 2020