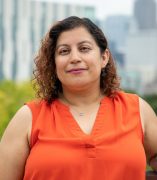 Veronica I. Arreola, MPA
Program Director
Contact
Address:
1200 W. Harrison, 2190 SSB, Chicago IL 60607-7164
Office Phone:
Email:
About
Veronica I. Arreola is a nationally recognized expert on women in higher education and a women's rights advocate. As the director of L@s GANAS, Arreola is charged with the day-to-day management of the team as they strengthen UIC's capacity to be the best campus it can be to nurture Latinx scientists-in-training. She earned her undergraduate degree in Biological Sciences at UIC. During that time she participated in the UIC Biology Colloquium as a student, student leader, independent research coordinator, and student coordinator. Arreola also held a NSF-supported internship at the Field Museum of Natural History in the Fishes Division. Most recently she was the director of the UIC Women in Science and Engineering (WISE) program. Under her leadership WISE was recognized with a Presidential Award for Excellence in Science, Mathematics and Engineering Mentoring and the Best Women in Engineering Award from the Women in Engineering Pro-Active Network.
Arreola has brought visibility to women's and Latinx issues through writing that has been featured in the New York Times, USA Today, The Christian Science Monitor, Bitch Media and the Women's Review of Books. She is a regular guest on Vocalo's "The Morning AMp" Council of Feminist Thought. Arreola serves on the board of directors of Bitch Media, a 20+ year old independent feminist media organization. Her leadership has been recognized by being named Woman of the Year by the UIC Chancellor's Committee on the Status of Women, with a Chicago Foundation for Women's Impact Award, Leadership Illinois and Negocios Now Who's Who in Chicago Hispanic Power. Both her bachelor's degree in Biological Sciences and a masters in Public Administration were earned at UIC and both with concentrations in Gender and Women's Studies. Arreola still considers herself a first generation college students as she was the first member of her family to earn a bachelors and masters degree.