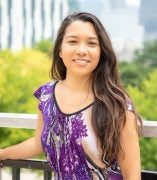 Paola Chavez
Transition Coach
Contact
Building & Room:
Student Services Building
Address:
1200 W. Harrison, 2190 SSB, Chicago IL 60607-7164
Office Phone:
Email:
About
Paola Chavez is a Chicago native and graduated from UIC with a Bachelors Degree in Sociology and a minor in Criminal Justice. During her time at UIC, she was involved in research pertaining to zero-tolerance policies in Chicago Public Schools through the Urban Public Fellowship Program (UPPF) at UIC as well as research on Latinas in Congress through the Summer Research Opportunities Program (SROP) at Michigan State University
Before returning to UIC as a transition coach with L@S GANAS program, Paola was an adviser at Gage Park High School through a non-profit organization called College Advising Corps, where she assisted high school seniors through the college application process, financial aid and more. Being a first-generation college student herself from a humble background, she knew she wanted to continue working in the field of higher education, particularly in creating pathways and opportunities for first-generation and latinx students who aspire to attend college.
In her free time, Paola enjoys spending time with friends and family, reading, going to comedy shows and enjoying nature when the weather permits.