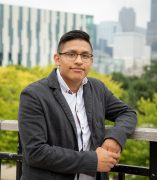 Freddy Jacome
Program Assistant
Mentoring Con Ganas
Contact
Building & Room:
Student Services Building 2190
Address:
1200 W. Harrison, Chicago IL 60607-7164
Office Phone:
Email:
About
Freddy Jacome is a program assistant within L@s GANAS, serving as the social media chair and coordinator of the Mentoring Program. At an early age, Freddy and his family migrated from Ecuador to the United States in search of better opportunity. He went on to graduate from the University of Illinois at Chicago with a BS in Biological Sciences. Understanding the importance of higher education and the positive impact it can have in our communities, he's driven to ensure students within the program achieve their goals and are successful.
Having spent most of his life in the Logan Square and Humboldt park neighborhoods, Freddy developed an aspiration to help disadvantaged people. He serves as the Vice Chair of the ENLACE Associate Board, which is an organization dedicated towards making a positive difference in the lives of Little Village residents. During the summer, he also coaches football to teens in the Humboldt Park neighborhood. Freddy hopes to become a physician so that he can help breach the health disparities of underserved populations.