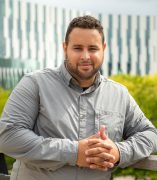 Ian Torres
Dialogue Coordinator & Program Assistant
Contact
Building & Room:
Student Services Building
Address:
1200 W. Harrison, 2190 SSB, Chicago IL 60607-7164
Email:
About
Ian Torres grew up half of his life in Puerto Rico and half of his life in the West Suburbs on the outskirts of Chicago. He received his Bachelors of Arts in Latin American and Latino Studies with a double minor in Political Science and Spanish from the University of Illinois at Chicago (UIC). As a student, Ian worked as a student educator with the UIC Latino Cultural Center, as a Student Leader for the UIC Heritage Garden, and as a member or leader of several student organizations on campus. He became the Dialogue Coordinator for the LCC in the Spring of 2017 and Program Assistant for L@s GANAS in the Spring of 2018. Working with the L@s GANAS program, Ian has helped craft new dialogues tailored for Latinx students in STEM fields. He also schedules and facilitates these programs. Ian is also currently pursuing his Masters of Education Degree in Youth Development at UIC.