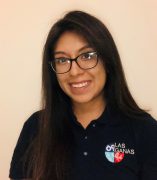 Brenda Carlos
Program Coordinator
Mentoring Con Ganas
Contact
Building & Room:
Student Services Building 2190
Address:
1200 W. Harrison, Chicago IL 60607-7164
Office Phone:
Email:
About
Brenda Carlos received her Bachelor's Degree in Psychology and Spanish from the University of
Illinois at Chicago in 2017. For the past two years, she has been working with children and youth
that are all from different backgrounds and socioeconomic status such as, children with special
needs, immigrant refugees, to more affluent children. She was then inspired to apply to graduate
school to become a social worker. Brenda is currently working on completing her Master's of
Social Work at UIC and hopes to one day be able to become a School Social Worker.
Brenda is passionate about working with children and youth. She intends to apply her bilingual
skills with the population she serves and give back to the Latinx community. By working at a
diverse school, she will be able to engage with marginalized students, who face significant
obstacles such as poverty, language barriers, exposure to violence, and lack of social capital,
which may lead to less retention in school.
In her free time, Brenda enjoys working out, face masks, spending time with family, and friends.