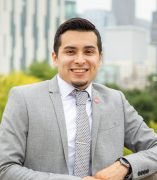 Adrian M. Villarreal
Transition Coach
Pronouns: He/Him/His
Contact
Building & Room:
UIC Student Services Building
Address:
1200 W. Harrison Street, 2190 SSB, Chicago IL 60607-7164
Email:
About
Adrian M. Villarreal is a proud alum from the University of Illinois at Chicago (UIC) who earned his Bachelor's Degree in Chemistry over five consecutive years. Born at the UIC Hospital, Adrian has been building connections on-campus within his network since birth. Growing up on the South Side of Chicago, he is the first in his family to attend and graduate college.
Before becoming a Transition Coach with the L@S GANAS program, Adrian enthusiastically served as a traveling Recruitment & Admissions Counselor with the UIC Office of Undergraduate Admissions. In his role with UIC Admissions, Adrian traveled to multiple high schools and community colleges, focusing on Chicago's South Side, to deliver presentations about college and his personal experiences in front of diverse classrooms and auditoriums. Adrian truly believes in the importance of higher education and how education can make a positive impact to communities.
Growing up without his father, Adrian's personal experiences drives his passion to serve as a positive role model for UIC students as a Transition Coach. When he is not studying for his MEd in Urban Higher Education, Adrian is traveling out-of-state, playing the piano or guitar, solving rubix cubes, and listening to Hip-Hop music.